Pizza has always been Janet Duran's favorite food — and she's been determined to make it her living, too. A former employer encouraged her to write down all her ideas, confident she would one day have her own pizzeria. After three years of making pizzas from home to sell to friends and family, she made a name for herself and her pizza in the Laredo, Texas, community. That led to the opening of 550 Pizzeria in June 2020. Despite the pandemic, success has followed.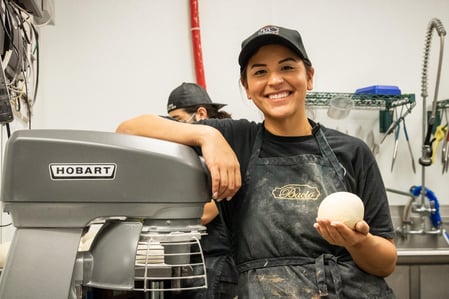 Q: What makes your pizza unique?
A: I think it's the cheese I use and, I believe, my dough. It's a New York-style pizza, but with a vegan dough. There's no egg. I let it rise for 24 hours. I'm very strict about that. It's quality over quantity. So sometimes I run out — our customers understand, and they'll call two days ahead to place their order.
Q: Where do you get your inspiration for your menu?
A: Some of our pizzas are like ones I made with my former employer, but I played around with the ingredients. I also asked several customers what their ideas were, and I've had "Make a Pizza" contests — whichever one wins, I'll put it on my menu. That's how The Ghost pizza came about and it's our number-one seller. My employees help me out a lot, too. If they give me ideas, I'll buy the ingredients and we'll try it out the next day. I feel like they're all part of 550 in that sense. And I'll name it after them if they would like that.
Q: Why is it so important to you to source fresh, local ingredients?
A: I feel like it's important because it's what I eat. It's what my daughter eats. The fresher the better. Every single day I go to my local supermarket. I buy tomatoes, mushrooms — everything. Every day I go and buy a whole ham. It's crazy how much ham I use for The Ghost pizza.
Q: What about being a restaurant owner and chef makes you happiest?
A: Owning your own business is a big deal, which I still don't comprehend. I still think, "What? It's mine?" I'm the happiest because I feel like I was able to bring Laredo a great pizza. Selling out is what amazes me and showing my daughter I was able to do it, even without a degree, through hard work and dedication.
Q: What do you think you need to run a successful pizza restaurant?
I think it takes a lot of dedication, passion, commitment and fairness. You have to be loyal to yourself, to your product and to your employees. It takes a lot. It really takes a lot. But you have to have passion. Because if not, it's not going to work out.
Q: Why did you invest in a Hobart mixer?
A: I learned about them through my former boss. He told me to write Hobart down so I would get one when I had my own pizzeria — and I did. Before I bought my mixer, I would always tell my husband, "One day I'm going to get a Hobart. One day." And he would tell me, "Yes, we are. We have to."