Benjamin Franklin Elementary School in Glendale, California, struggles with many of the same challenges faced by schools across the country. One in particular is the waste produced from student meals. State mandates and parental expectations surrounding sustainability are putting pressure on school districts to look for environmentally friendly options to combat the amount of organic and solid waste, while still meeting federal school nutrition requirements and working within tight budgets.
Benjamin Franklin Elementary has piloted two programs that produced great results in waste reduction. First, in an effort to meet California's mandates that businesses enact programs for organic food waste, the school implemented a composting program. This initiative consisted of monitoring and sorting organic waste at each meal, with help from a "Green Team" of parents organized by the school's PTA. Parent volunteers monitored lunchtime waste alongside school staff and student teams, teaching kids how to put on gloves to sort the waste and helping them sort everything into liquids, solids, compostables, and recyclables. In addition to the food waste, the program also involved replacing the disposable ware with compostable options.
The program brought the school into compliance with the state mandates (California state bill AB1826), but the compostable ware alone more than doubled the cost of trays and plates, while still contributing to overall waste. "We saw so much waste each day as the kids threw away single-use forks and trays," says Michael Bridges, PTA treasurer. "Even though they were compostable, it seemed there had to be a better option out there."
Making the Switch to Reusables
With a little research and initiative, Benjamin Franklin Elementary found a way to better meet their objectives of reducing waste, complying with state mandates, and controlling costs by switching from compostable to reusable ware and installing an automated Hobart AM15VLT Ventless Commercial Dishwasher. Since the switch, the school has benefitted from reduced operating costs and improved water-use efficiency.
Benjamin Franklin Elementary spent $5,800 on disposable utensil kits and compostable trays for over 64,000 meals each year. This cost was eliminated entirely from their budget.
Less volume in the trash means the trash vendor can come half as often for the compostable dumpster, a savings of $1,280 per year.
Up-front costs for a resuable program range from $10,000–$20,000. It's not uncommon for a Hobart dishmachine that is well taken care of to last 15 or more years, so these programs can pay for themselves several times over during the lifetime of the dishmachine.
Before the switch, the school used a compartment sink to wash and sanitize pots and pans, using about 16,000 gallons of water a year. The Hobart AM ventless door type dishmachine the school installed is much more efficient, using only 7,000 gallons of water to wash about 33 racks per day. That's a savings of 9,000 gallons in a drought prone state!
The Hobart AM15VLT provides consistent cleaning and sanitization for all of Benjamin Franklin's ware items, on every cycle. This greatly reduces the risk of poor and incomplete sanitization that may come from manually washing ware in a 3-compartment sink.
For schools looking for an affordable sustainability option, a reusable ware program with an automated dishmachine like the one implemented at Benjamin Franklin Elementary can make a big difference.
Click here to read the full case study with compostable and reusable program cost comparisons.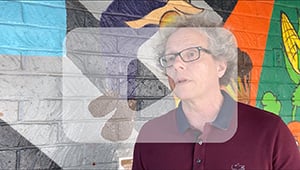 Watch a short video with the Benjamin Franklin Elementary team.