Anyone who has spent time soaking and scrubbing dried-up, crusty foods and grease off dishes, prep ware and pots and pans knows just how tough and time consuming some foods soils are to remove. Some of the top offenders are eggs, cheese, pie filling and tomato-based sauces, and anything with a high sugar or fat content is a prime culprit in baked-on, dried-up or greasy food messes.

Thanks to these tough foods, scrapping and soaking are necessary processes in the dishroom. But with the right equipment in place the time spent on these labor-intensive tasks can be reduced, leading to increased productivity and cost savings in the kitchen.
Good Engineering Creates Better Dishwashing
In automatic commercial dishwashers, five factors combine to deliver optimum performance in dishwashing -- water, chemicals, time, motion and dishroom procedures. Years of design and testing have allowed engineers to optimize these five factors in the best way to deliver dishmachines that provide excellent wash performance and consistent results. Everything that's inside a dishwasher plays an integral part in the overall performance, from the force of the water that loosens soil to the time soiled dishes are exposed to chemical cleaning solutions and hot water to how dishes are placed in the racks or on the conveyor.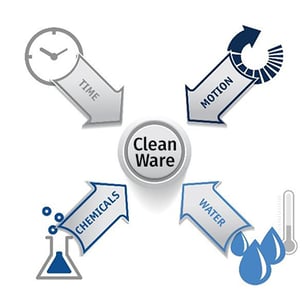 To help get the best wash performance, engineers subject each design to a battery of tests to ensure dishmachines produce results consistent with industry standards for commercial dishwashers defined by NSF. NSF International has rigorous tests that equipment must pass in order to claim NSF certification. One of the more challenging tests is the pot and pan test, where pie filling is applied to both the inside and outside of pots and pans and baked at 200°F for an hour. In order for a dishmachine to be NSF certified for pots and pans, all of the pie filling must be removed during the wash cycle. All Hobart dishmachines are NSF certified, including the Pot & Pan certification, which means operators can be assured that the ware they put in a dishwasher, no matter how soiled, will come out clean and ready for use. And getting more soil off can mean less time scrubbing ware.
Technologies Reduce Dishroom Labor
In addition to the labor savings that come from better washing of tough food soils, Hobart dishmachines are also available with time-saving technologies like Automatic Soil Removal (ASR), which reduces the amount of pre-scrapping needed in dishroom operations. One of Hobart's lab tests is the gross soil test, which puts a combination of heavy food solids on plates and in the wash water, then analyzes how much is left in the wash water "Not only do we look to see if ware has any food soil or specs left on it, but we also measure how dirty the wash water is," says Tom Grueser, Application Engineer for Hobart Warewash.

With the addition of ASR technologies in Hobart's line of Advansys™ dishmachines, the amount of food soil in wash water is reduced by up to 80%. The automated process collects and pumps out large and small particles of food soil missed in pre-scrapping. Dirtier ware with more food soil can go in the machine, and since it gets pumped out of the machine, operators spend less time actively scraping foods off ware. The cleaner wash water also reduces water changes up to 50%, which saves operators even more time on cleaning the machine.
Getting Hobart Clean
Rigorous testing and advanced technologies allow Hobart to set the standard for five-star quality and superior value that all other commercial dishwashers are judged by. It's a distinction we've earned over many decades of engineering dishmachines that lead the industry in wash performance, food safety, operational efficiency and lifetime value paired with a dedicated team of experts ready to support your operation with comprehensive training and nationwide support.

Click here to learn more about Hobart Clean, and download our Dishroom Operations Guide for tips on how you can get the best performance out of your dishroom with good procedures and a Hobart dishmachine.